Apartments with Ball Park Views

Enjoy a prime view of the ballfields right from your own apartment! Select homes at Commodore Perry Apartments offer fantastic views of Fifth Third Field.
See pictures below taken right from the apartment homes!

Apply today to enjoy the great views!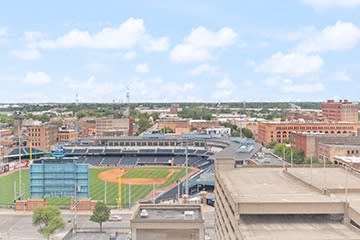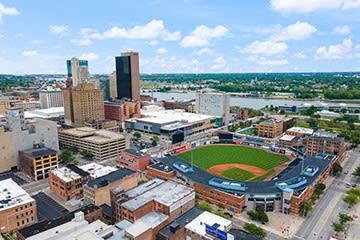 If you are planning to apply for an apartment with a ballpark view, look for apartment numbers ending in 01, 02 or 03.
Testimonials
The repairs (Few and far between) are done either same day or immediately if needed. Residents living in the CP are all very nice and neighborly. New Gym is Amazing!Makes working out feel like I am at a real big-city gym. The apartments are very quiet. I also love the views.Everything is within walking distance. Bars, Restaurants, Sporting Events, Concerts, We even have a wine bar in the lobby!

- Anonymous
My favorite thing about living at the Commodore is just the overall community itself. You meet so many great people and have the opportunity to form lasting friendships with your neighbors. Nothing beats standing at my living room window and looking out over Fifth Third Field while there is a Mud Hens game going on in the summer. That is what I love best about living in the apartment I do. You can literally smell the Ballpark Franks being grilled up!

- Anonymous
I want to let out a secret that I have been holding on to. I have been living at the CP as I like to call this landmark structure in Downtown Toledo for about 8 years and from the very first day until now I can't wait to return to my home. . I think the number one attraction is the people that live and work here where I live. The varied ages of our residents is where the chemistry comes from that makes me eager to come home. I have never heard anyone say they were happy to be leaving.

- Anonymous
If the weather is adverse I park in a protective garage that is secure and go up to my comfy apartment and never know the effects of Mother nature. All I can say is moving to the Cp has been the best decision I have ever made. I cannot see myself ever wanting to move as long as I am residing in Toledo. Did I mention that three sides of my home is facing the three largest venues for entertainment that Downtown has to offer? Ps Mud hen season opener in about seven weeks come down and check us out!

- Anonymous
My favorite thing about living at the commodore apartments is how friendly and nice everyone always is.

- Anonymous